November 1, 2014
July 28, 2012
Hot, hot, hot dry summer. Hard to keep up with the watering. The New York Times has an article addressing the extent of this summer's extreme drought across the nation here http://www.nytimes.com/2012/07/20/science/earth/severe-drought-expected-to-worsen-across-the-nation.html. More than half of the country is affected, the largest contiguous area in 60 years. This graphic shows the data since 1896.
Our own modus operandi is to water the things that really need it like the annual containers, the veggie garden (although not all of it), and the newer plantings that are not well-established yet. Not 'well-established' means plantings that are generally less than 1-2 years of age whose root systems do not reach deep enough to find water yet. We don't water the water-hogging lawn grass. Yes, that means it goes browner, but it does not die and it will come back when the rains do come.
We have some clients that also take a laissez-faire approach to their new plantings, seemingly thinking that once they are planted, they don't require any attention, let alone watering, whatsoever. This is frustrating because these same clients then wonder why their plants are dead or dying and want you to replace them because they were "defective!" Yet, they have no problem mega-watering their lawns until flash-fungus sets in.
We have been encouraging people to install microirrigation systems like Rainbird or Netafim for their new plantings and will design and install these systems for them. The beauty of these is that the water is delivered right to the plant through drip line emitters laid out under the mulch thus eliminating water wastage by spraying into the air. An automatic controller attached to the system means you can essentially 'set it, and forget it' although seasonal or rainy day adjustments may need to be made. We have even attached tiny drip lines with bubblers on the end to successfully water containers. And that is a definite time-saver for people who want lots of containers, but have no time to water them when they need to be watered!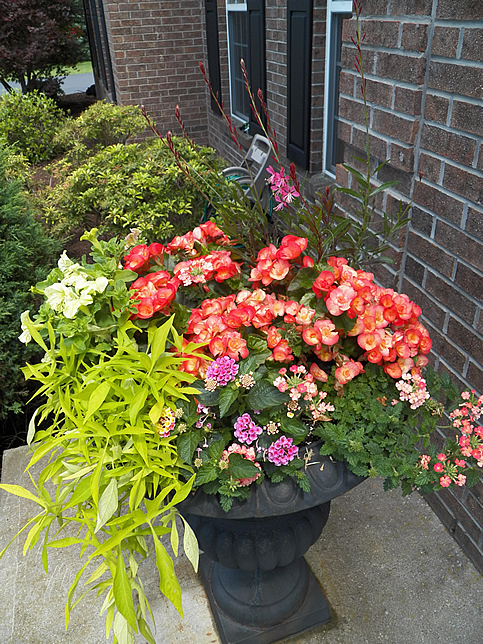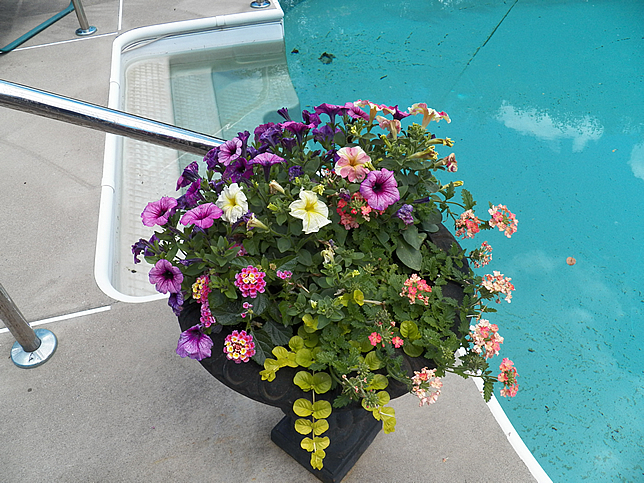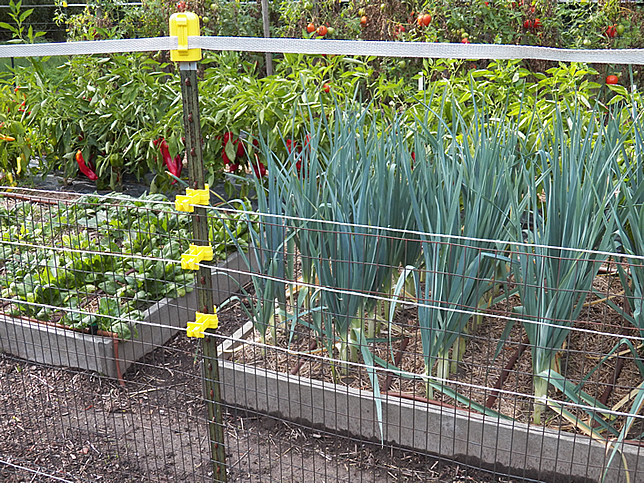 Now, aren't those better looking than old, brown, shriveled up flowers and veggies?
February 7, 2011
I've been thinking more about the concept of 'Genius loci' and how it relates to my own personal gardens. Currently buried under a sea of white here in upstate New York, I thought that perhaps I could find some older pictures of my gardens to use to convey 'the spirit of the place' to others for the Picture This contest for February over at Gardening Gone Wild. I found nothing that I felt was suitable. Why was that? Had I ignored the 'Genius loci' when I was creating my own gardens or had the 'Genius loci' really left the area!
First of all, location, location, location. Andrea Jones' photos showed us enticing and gorgeous vistas. I live in suburbia. Granted, we have almost an acre of land, but everywhere you look there is another house impinging on the "vista." Losing seven mature trees in ice storms over the years does not help! I can't grow trees tall enough in my lifetime to block out all those houses looming over us.
So what if I thought about the 'borrowed' vistas, a time-proven fundamental of landscape design? Hmm! I found this, this, and this.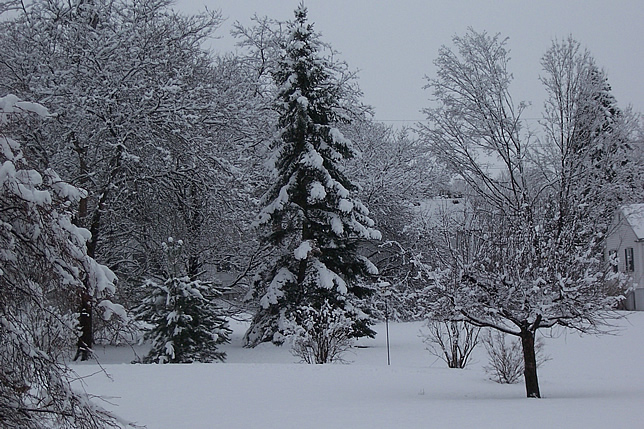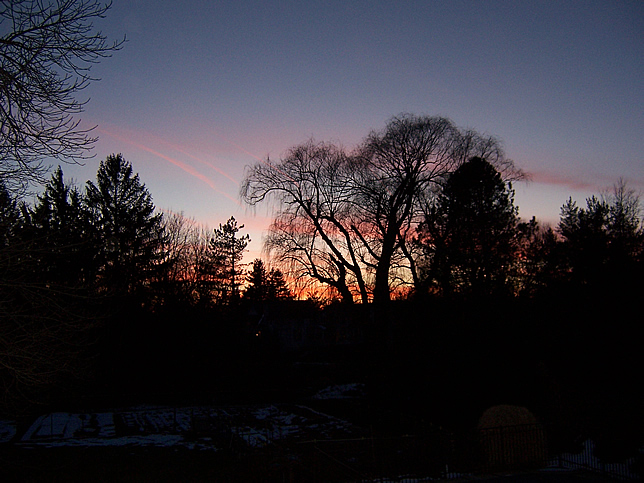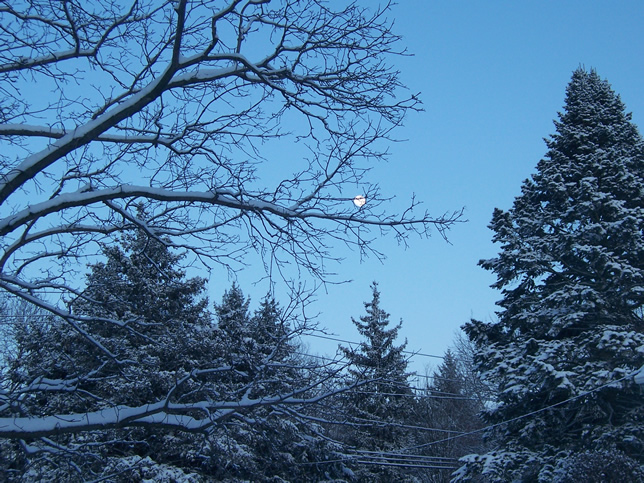 Yes, but those are not of my gardens specifically and doesn't everyone have lovely pictures of snowstorms and sunsets and moons? Well, what else could I find that would entice you in and make you want to visit, or at least to convey what makes my gardens special to me?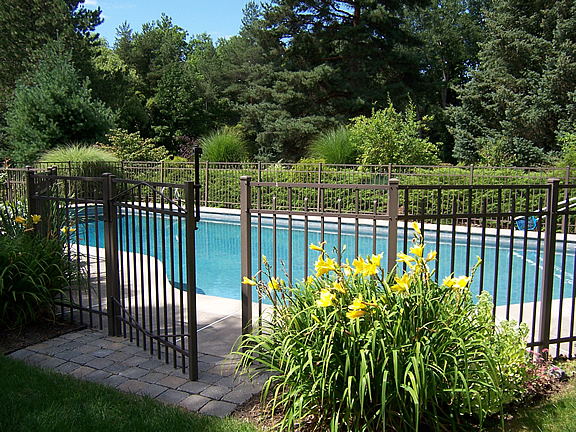 Nice range of colors, nice sunshine, open gate, feels good to me, but that picture brings up the second major problem – I am not a very good photographer! There's that pool skimmer and brush in the corner. If I crop that out, the picture just doesn't have the same feeling. It becomes blasé – all because of a pool skimmer? Ok, so my photographic skills need to be improved on, but surely among all those hundreds, nay, thousands of photos I have taken over the years, there might be a few really good ones of my own gardens. Hah!
At this point in my thinking, I still don't know whether I had ignored the 'Genius loci' or whether it had left when I wasn't looking (if a 'Genius loci' can even do that!). It occurred to me that our little plot of land used to be a cornfield before it became suburbia. But what do they do when they build and build and build? Why, they scrape off all the good dirt and sell it down the river! Yikes! What if there never was a 'Genius loci' here?
No, no no! I mean, really, look at that pool picture again – there are some good things going on there! There are some pretty perennials, some great grasses, some shrubs growing into nice specimens, and lots of varied evergreens (both mine and borrowed).
All right, so maybe I need to think more about what I love or want in my gardens. In no particular order then –
Attracting birds, even predators like this juvenile Cooper's hawk: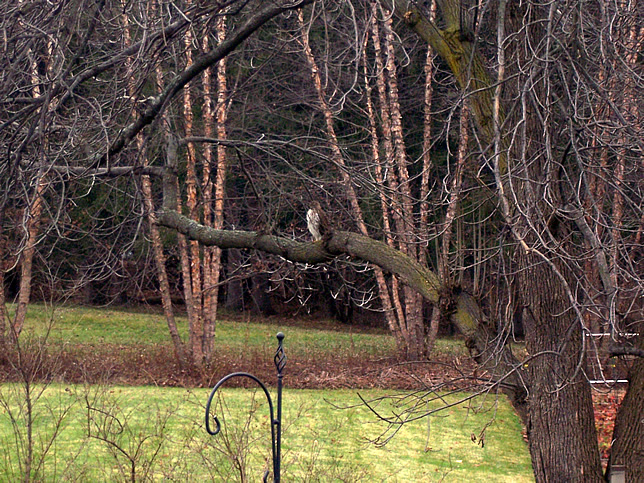 A place for children and adults to play – in the pool, in the yard: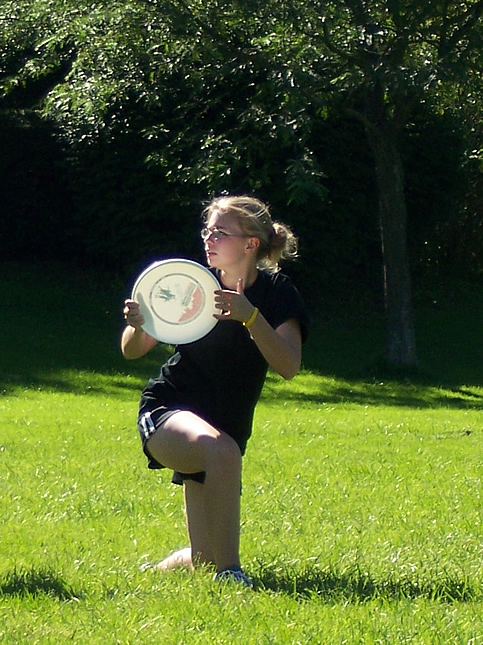 A place to grow lots of vegetables and fruit and flowers: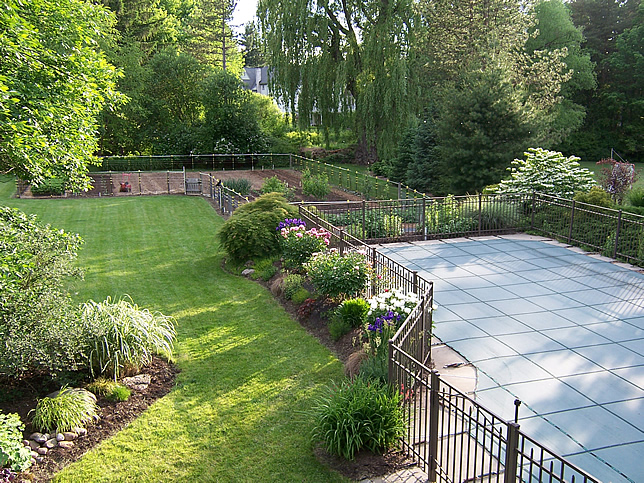 A place for herbs for my cooking adventures: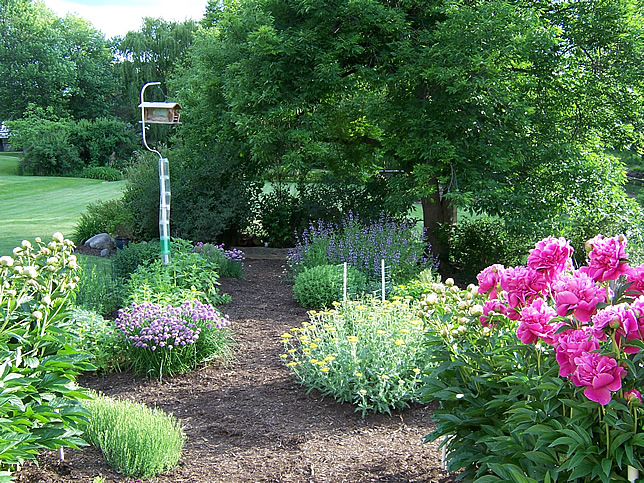 So, what about the 'Genius loci' in my own gardens? Perhaps we created a new one while bringing in new soil and composting and amending and planning and planting all these years, and maybe it is just waiting under the snow to emerge once again in the spring.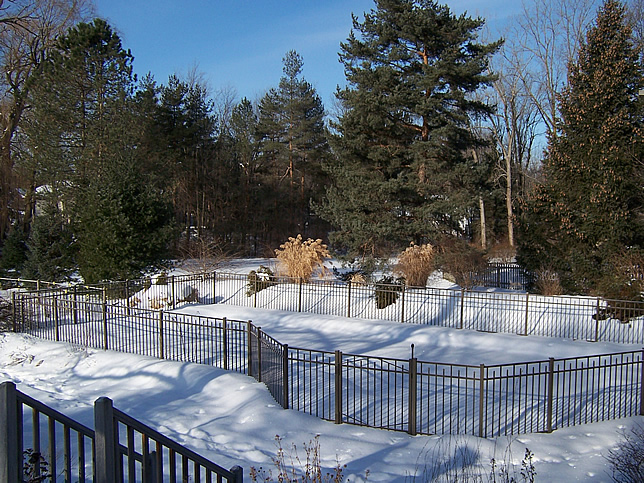 Too bad I don't have the photographic skills to convey the 'Genius loci' to you . . . yet!
Comments Off

on Genius loci pars duo
July 27, 2010
Here it is almost the end of July! So far, so good! It has been a good growing year with heat and rains coming at just the right time here. The growth of the plants has been wonderful and they are lush. We've been harvesting peppers, cukes, lettuce, blueberries, raspberries, and 66 luscious bulbs of garlic to dry.
Of course, the amount of rain over three days last week amounted to a little over 5 inches! Unexpected, and a bit much for some of the plants to handle. During a break in the downpours, I slogged through the soggy lawn to check on the vegetable garden. To my surprise, the peaches had this clear, oozy, jelly-like substance on them and my first thought was that there was a huge infestation of bugs and that was the result (sorry, no pictures). After searching the internet, I learned a new term – guttation. There had been so much water that the peaches were unable to absorb it properly and ended up exuding the excess in this sticky stuff. When I checked later in the day, it was gone! Yay!
And the containers are exploding with color!
Aren't they exuberant now? It's getting to be a jungle out there!
Comments Off

on Mid-summer!
Older Posts »