What an absolutely gorgeous fall day Cathy and I had to take a little trip to Harriet Hollister Spencer Memorial State Recreation Area high in the western hills between Honeoye Lake and Canadice Lake! The sun was shining, the temperature was perfect, the leaves were at peak color – and the company was incomparable. We needed to get out and get some fresh air and a nice hike was on the docket.
Well known in winter for its cross country ski trails, the land for HHS or Harriet Hollister for short, was given to New York State by the estate of Harriet Hollister Spencer (1887-1962), a woman from Rochester who was an expert on roses and a civic leader. More can be found about her here. The location of HHS ensures that it usually has more snow than surrounding areas. The trails, ranging in difficulty from novice to expert, are well-maintained and groomed by the Rochester Cross Country Ski Foundation.
Many of these same trails are used by hikers and even some bikers in the spring, summer and fall months. There are also picnic tables and a pavilion. A nice map of the park is located here. The main road through HHS is called Overlook Road and is closed to car traffic in the winter. What a gorgeous view we had!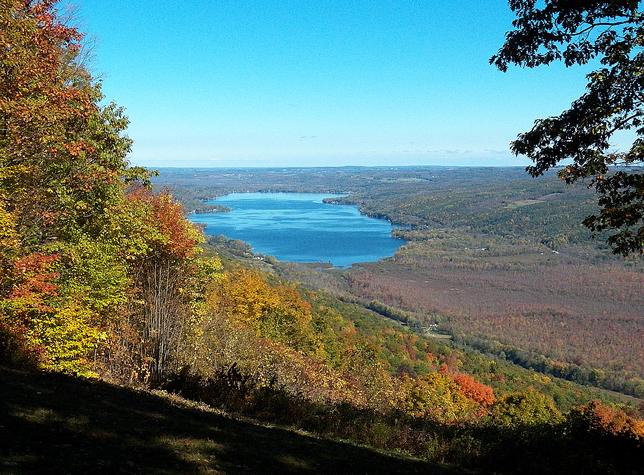 Feeling adventurous on such a nice day, we took some of the side trails. Pictures of some of the flora we saw are linked below. We also inadvertently ventured off-road thinking we were still on one of the park trails. Nope! and it was quite a hike back to the car. We are not really certain how that happened as we thought we were following a trail. Needless to say, we rewarded ourselves for all the effort and stopped for a lovely Sunday brunch at The Holloway House in East Bloomfield.
Honeoye Lake trail pictures (click on any picture to bring up the viewer, then play the slideshow or click the arrows on the side to navigate to each picture):