What fun today! Lots of summer sounds – kerplonk! reeee! buzzzz! – and we saw a Great Blue Heron swoop down and land near the edge of the pond while we were working there.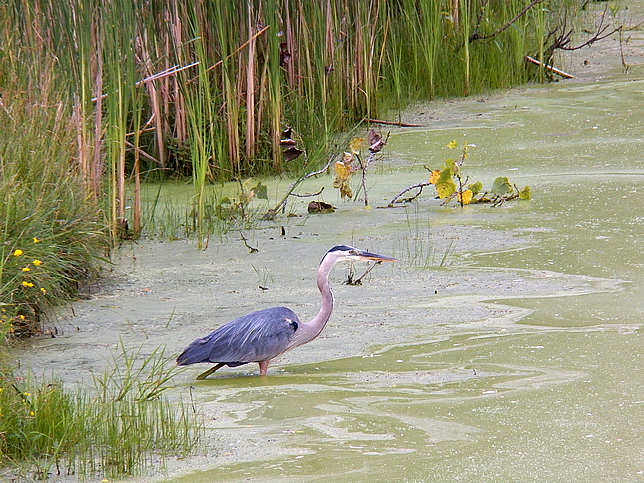 We know that there are huge koi and such in these shallow waters because we have seen them jumping and swimming around when the water is clear. And even though the water was murky today, obviously, he did too. There are lots of bullfrogs in the reeds too. It was fun to see him carefully picking each foot up and stretching it out a bit before putting it down again. Either he didn't want to get his feet dirty or else he was in stealth mode.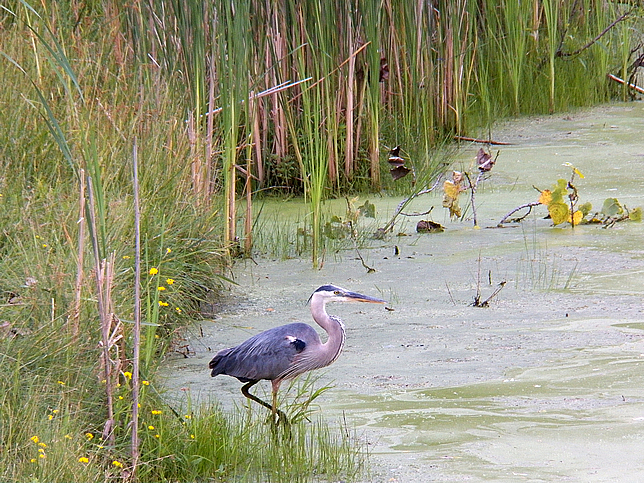 And his neck – how he folds it up or stretches it out! Very fun to watch! BTW the Cornell Lab of Ornithology has some live bird cams and, in the spring, they have a Great Blue Heron nest watch. It is fascinating to see the Mom and Dad fluff up the nest (that is, if you can fluff up a nest with sharp, pointy sticks), lay and take care of the eggs, and then see the eggs hatch and babies eventually fledge. Nature drama at its finest!
More about the cams here and FAQs about the Cornell Herons nest here.