With the usual venue for GardenScape under renovation, some of the landscape designers in Rochester took a different approach and developed their own show called Garden Artisans of Rochester Expo running from March 14-17 this year. All in all, it was a much smaller show and lower key than GardenScape. There were 8 non-juried garden displays with much of the plant material supplied by Oriental Garden Supply. These displays were mostly not as extensive as the ones you might have seen at GardenScape in past years, but the few bigger ones did not lack in creativity or excellence of display. We visited on Friday and there weren't many people there. Hopefully, more came on the weekend, but I didn't think the show was very well advertised or promoted. Quite a few seminars and talks were scheduled, but we missed catching any of them. The number of vendors was low, and for the most part uninteresting.
The light at the venue made it difficult to capture many of the beautiful garden vignettes, but hopefully you can enjoy the gist of it in this slideshow.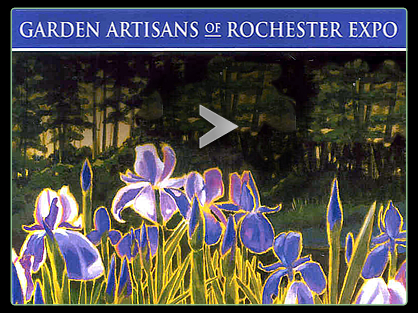 The Expo participants worked hard to try to make this a good show, but the people (person?) behind the scenes didn't carry through on what needed to be done. Too bad, because we Rochesterians crave us some flowers and gardens in March!