Today was a great day for birdwatching and I was watching this little guy. Can you see him up there near the top of the tree?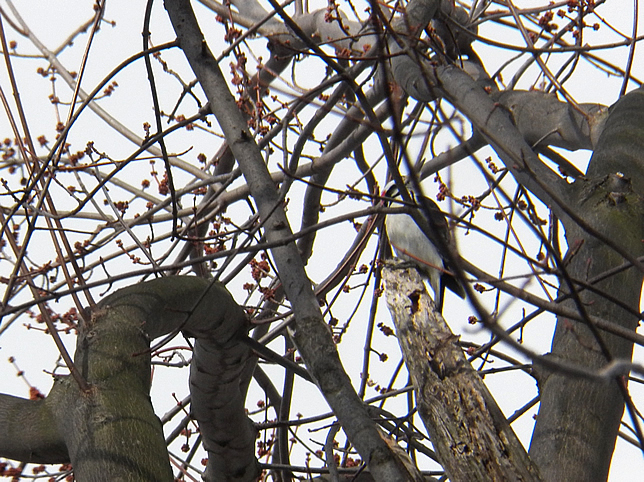 Today was also the second day of the GBBC, otherwise known as the Great Backyard Bird Count, a joint venture between the Cornell Lab of Ornithology and the National Audubon Society, with their Canadian partner Bird Studies Canada. This is a four day event where folks of all ages and experience all over the world count birds in their backyards, in the parks, where ever they are and submit their lists online. This is citizen science at its best and the information obtained gives researchers great insight into where the birds are in real-time. If you want to know more, go here and check it out. You can even find out what birds are being found in your area right as the checklists are being submitted!
The Downy Woodpecker is one of those sort of tricky birds to identify in that it looks so much like its larger cousin, the Hairy Woodpecker. Both have that black and white checkered appearance with a wide white stripe down the back. The males of both species have red splotches on the backs of their heads. Besides other smaller differences, the key distinguishing features are the smaller overall size of the Downy (about 6″ long versus about 9-11″ for the Hairy) and the smaller and daintier bill. The long, chisel-like bill for the Hairy is about the same size as the distance from the base of the bill to the back of the head. The Downy's bill is only about one-third to one-half of that distance.
This one was definitely a Downy woodpecker judging from his size (compare it to the size of the branches around him) and the size of his bill. Downys are often found in suburban areas, are bolder and more curious, even coming down to eat seed from one's hand in some cases, than the Hairy, which stays deeper in the forested areas. They are also fairly noisy little birds and quite acrobatic – cute!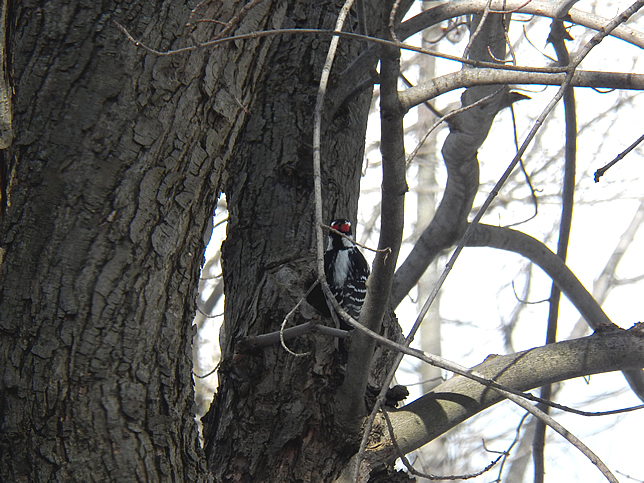 Both Downy and Hairy woodpeckers make their nests in tree cavities, but the Downy woodpeckers excavate smaller, round cavities while Hairy woodpeckers have larger, more oval-shaped cavities. I believe this little guy is prepping a future home for his little ones. I will have to keep an eye out to see if the mama comes around.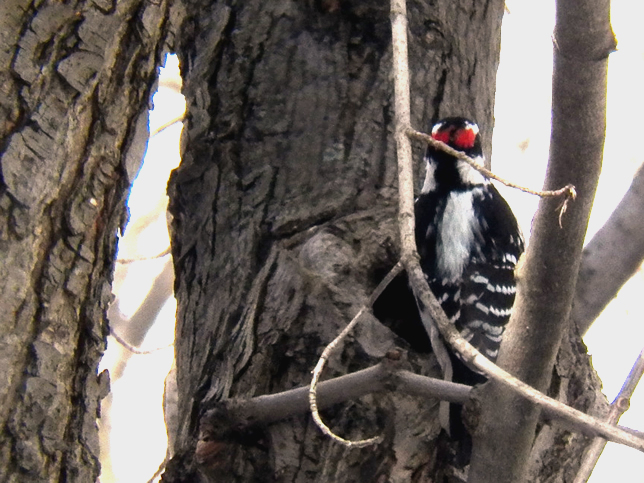 If you want to know more about the Downy woodpecker, how to distinguish it from the Hairy, and to hear its chatter, go to the Cornell Lab of Ornithology's All About Birds website here.