We have had the craziest winter/spring so far. Temps have been hovering in the 50-60 range with occasional forays up into the low 70s. The lack of a decent snow cover and good length of cold weather have pushed the plants into an early bloom, up to a month or so early! This is quite worrisome as we will surely get some more frosts, possibly even snow, before it finally warms up for good, and this can mean trouble with a capital T.
Caution! Scientific stuff coming up! So, first of all, do you know your Hardiness Zone? You can find it here on the new USDA interactive zone map. In general, your Hardiness Zone number indicates the maximum cold it may get in your area and plants that grow well in your zone can withstand these temperatures in midwinter and survive. Based on this map, we might be considered 5b-6a around here, but looking solely at this winter, we fell in the zone 8 range! Why does this matter? As the temperatures fall in beginning of winter, plants become acclimated to the lower temps and develop more hardiness and resistance to plant death. When the temps start warming back up, the plants become de-acclimated to low temps, hardiness is reduced, and plant death or winter injury can occur if sudden drops in temperature are experienced. You can read more about this here if you are so inclined.
The bottom line is that the peach trees, in particular, that are blooming now, along with everything else, are particularly susceptible to frost injury and those low temps that are sure to come may destroy our little peach crop. Crossing my fingers! Other plants may be OK, but with a shortened blooming period. We shall see what happens.
On a related note, I've got a slideshow for you of some of the blooms in my garden now. Sorry, my camera croaked so these are from my cell phone and the quality is not very good.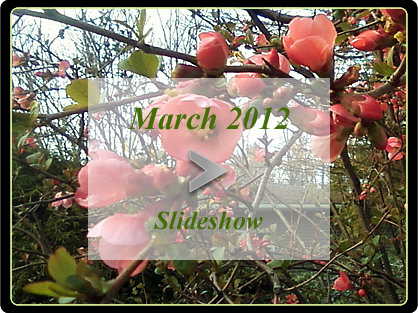 What is blooming in your gardens now? Are you in danger of further frosts too?