I've been thinking more about the concept of 'Genius loci' and how it relates to my own personal gardens. Currently buried under a sea of white here in upstate New York, I thought that perhaps I could find some older pictures of my gardens to use to convey 'the spirit of the place' to others for the Picture This contest for February over at Gardening Gone Wild. I found nothing that I felt was suitable. Why was that? Had I ignored the 'Genius loci' when I was creating my own gardens or had the 'Genius loci' really left the area!
First of all, location, location, location. Andrea Jones' photos showed us enticing and gorgeous vistas. I live in suburbia. Granted, we have almost an acre of land, but everywhere you look there is another house impinging on the "vista." Losing seven mature trees in ice storms over the years does not help! I can't grow trees tall enough in my lifetime to block out all those houses looming over us.
So what if I thought about the 'borrowed' vistas, a time-proven fundamental of landscape design? Hmm! I found this, this, and this.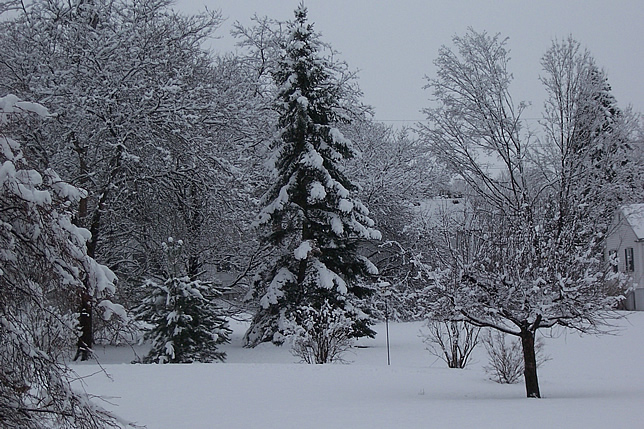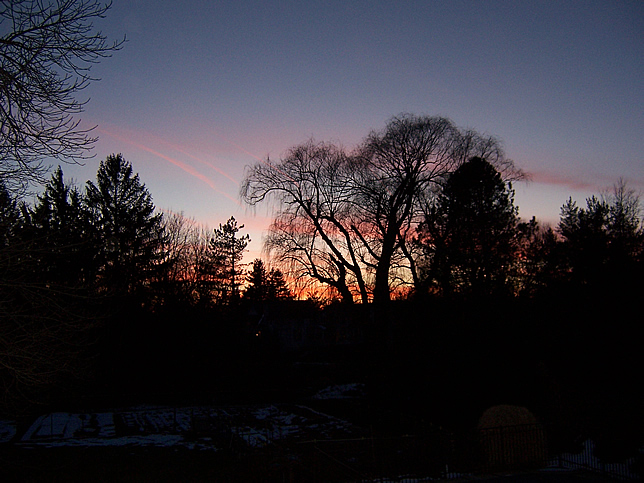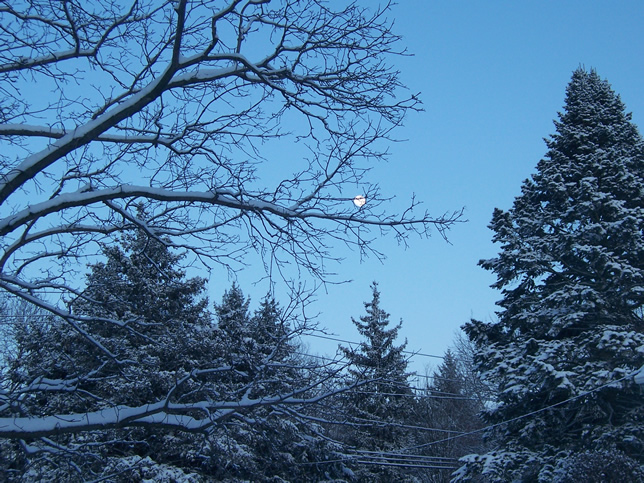 Yes, but those are not of my gardens specifically and doesn't everyone have lovely pictures of snowstorms and sunsets and moons? Well, what else could I find that would entice you in and make you want to visit, or at least to convey what makes my gardens special to me?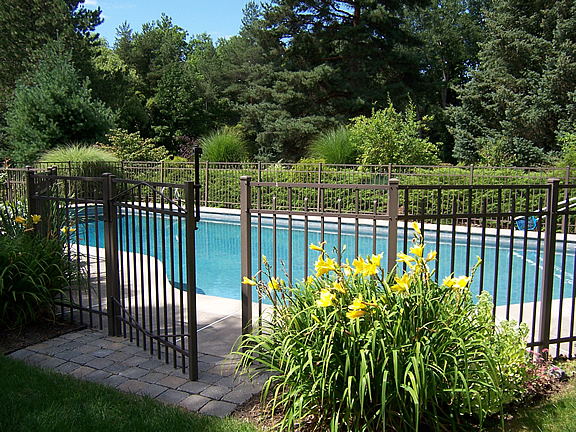 Nice range of colors, nice sunshine, open gate, feels good to me, but that picture brings up the second major problem – I am not a very good photographer! There's that pool skimmer and brush in the corner. If I crop that out, the picture just doesn't have the same feeling. It becomes blasé – all because of a pool skimmer? Ok, so my photographic skills need to be improved on, but surely among all those hundreds, nay, thousands of photos I have taken over the years, there might be a few really good ones of my own gardens. Hah!
At this point in my thinking, I still don't know whether I had ignored the 'Genius loci' or whether it had left when I wasn't looking (if a 'Genius loci' can even do that!). It occurred to me that our little plot of land used to be a cornfield before it became suburbia. But what do they do when they build and build and build? Why, they scrape off all the good dirt and sell it down the river! Yikes! What if there never was a 'Genius loci' here?
No, no no! I mean, really, look at that pool picture again – there are some good things going on there! There are some pretty perennials, some great grasses, some shrubs growing into nice specimens, and lots of varied evergreens (both mine and borrowed).
All right, so maybe I need to think more about what I love or want in my gardens. In no particular order then –
Attracting birds, even predators like this juvenile Cooper's hawk: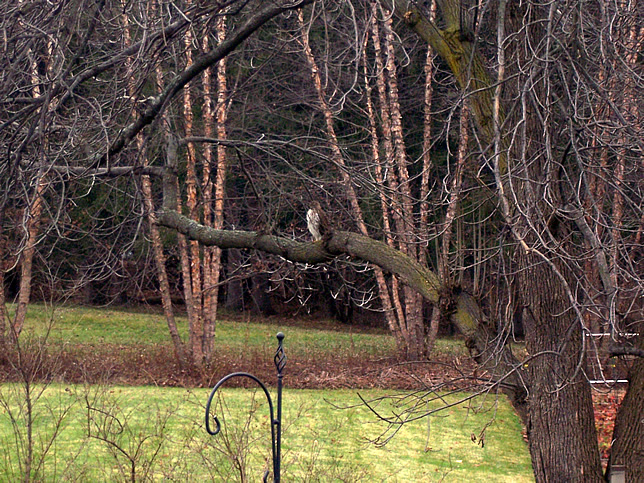 A place for children and adults to play – in the pool, in the yard: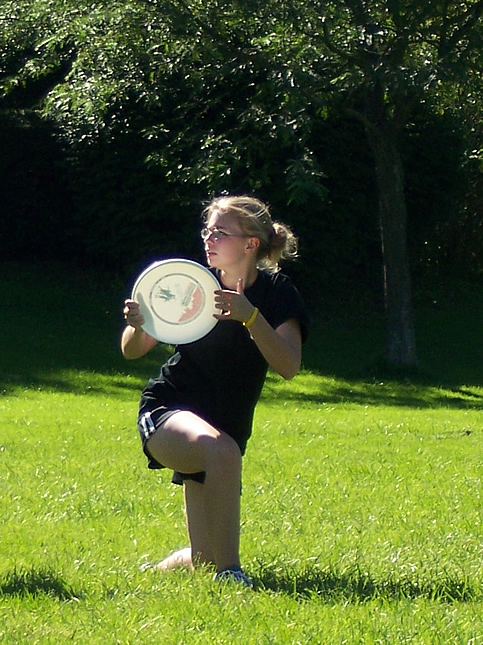 A place to grow lots of vegetables and fruit and flowers: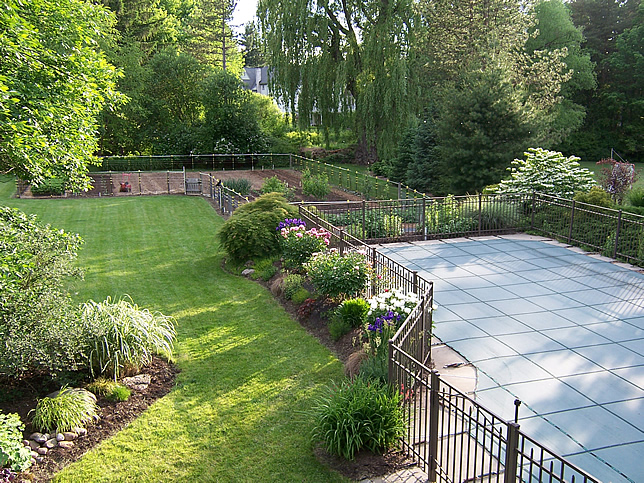 A place for herbs for my cooking adventures: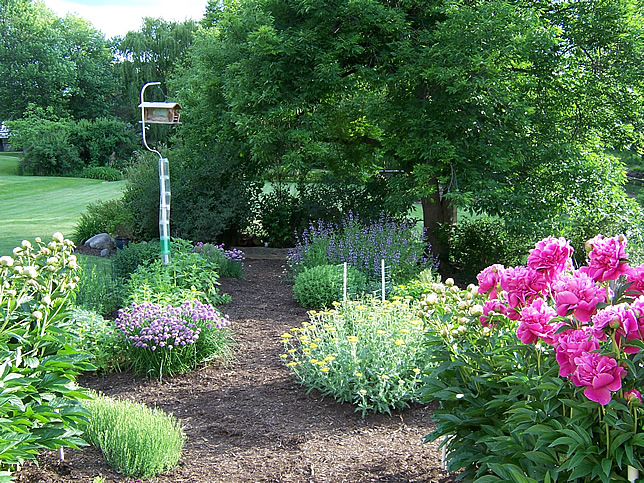 So, what about the 'Genius loci' in my own gardens? Perhaps we created a new one while bringing in new soil and composting and amending and planning and planting all these years, and maybe it is just waiting under the snow to emerge once again in the spring.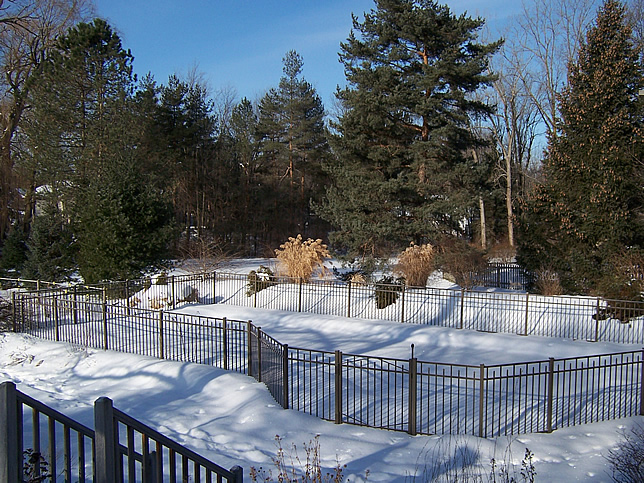 Too bad I don't have the photographic skills to convey the 'Genius loci' to you . . . yet!