Wow! We have been so busy that I haven't given a thought to updating the blog. First, so much rain in the spring that it was hard to get in the gardens to do cleanup. Then, it was rush, rush, rush to get everything cleaned up, planted up, and spruced up for the holidays and beginning of summer. And, in the meantime, all the moisture in the soil dried up and huge cracks appeared in the parched earth while we were experiencing temperatures hovering around 90. This morning? A bit of soft, steady rain to moisten things up and maybe some more this afternoon – yay! We surely need it.
I'm loving this corner of the yard now – the red doublefile viburnum berries, the dark purple foliage and berries of the Diabolo ninebark, the hint of yellow on the chamaecyparis pisifera aurea, the wispy threads of the Morning Light miscanthus grass, and barely seen at the bottom of the picture, the bluish green fronds of a microbiota decussata. So much going on!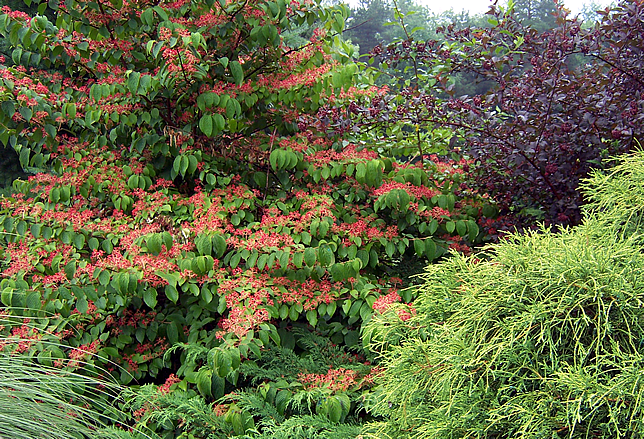 A closeup of the center shows all the coloration and texture variations going on.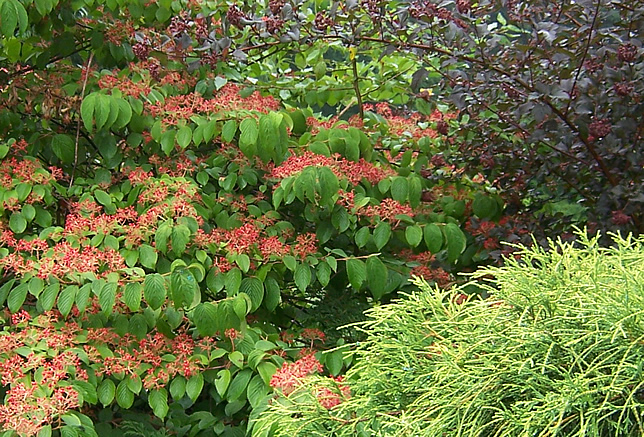 Here is another corner with lots of interest now – amsonia hubrechtii in the center, coreopsis 'Zagreb' and 'Goldsturm' rudbeckia just below, lamb's ears (which interestingly have not browned out and turned to mush this year) and 'Amethyst Myst' heuchera at the very bottom, hosta (can't remember the name) and aruncus on the far right, hakonechloa 'Aureo-marginata' and sedum 'Autumn Joy' on the left, and spikes of siberian iris 'Caesar's Brother' and 'Butter and Sugar' punctuating the scene here and there.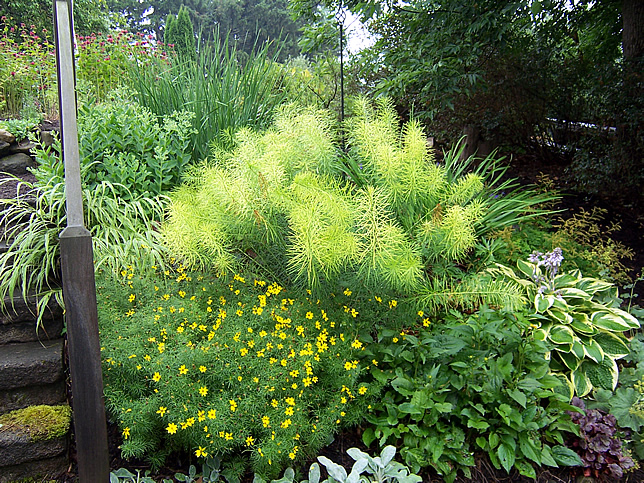 Despite the flooding rains this spring, the horrific heat this summer, and the tough love we are meting out to our gardens this year, they don't look too bad! What's going on in your gardens now?