One of the delights of the winter garden is discovering, and trying to identify, all the tracks one finds in the snow. Of course, you can easily tell who made these tracks!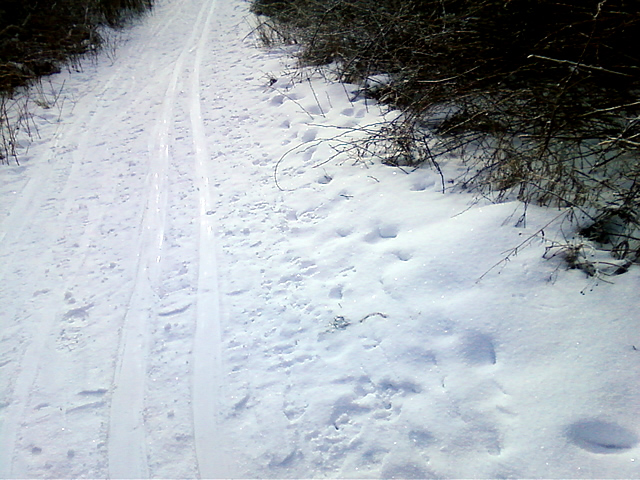 But how about these little ones?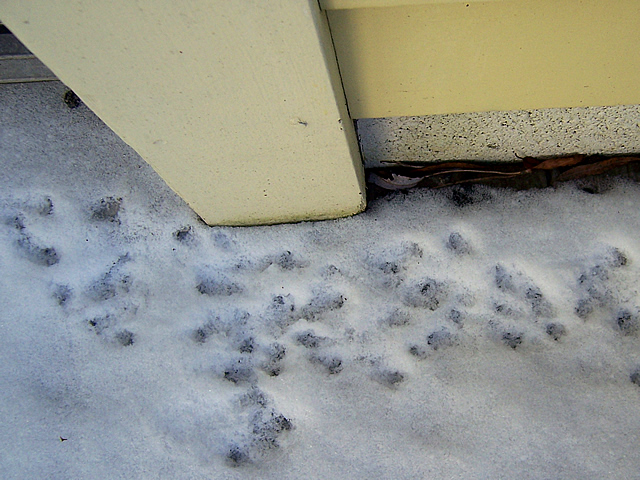 My guess on this is that they were made by a mouse or other small rodent helping themselves to our squash stash in the garage. In researching how to identify various tracks in the snow, I ran across this picture.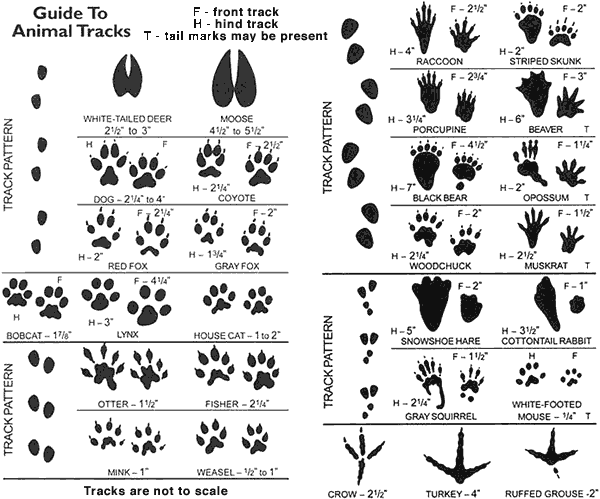 Rodents as small as mice or as large as beavers have five toes on their hind feet but only four on the front. On the other hand, the numerous deer that we have in our area leave two-toed prints like these: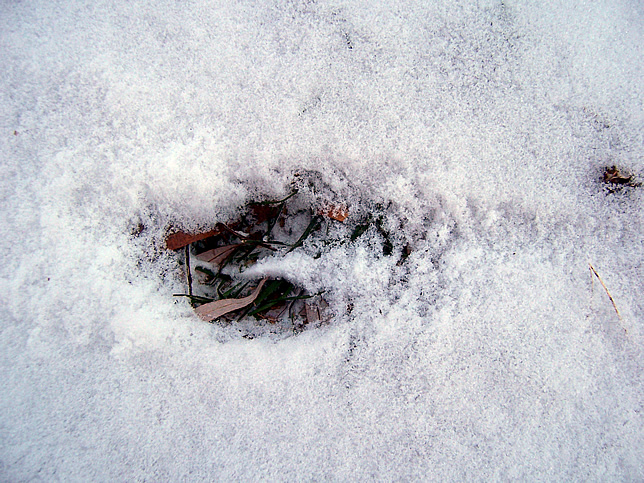 Seeing these pairs of deer tracks makes me think about them wandering around leisurely in the middle of the night, conversing with each other in their own way.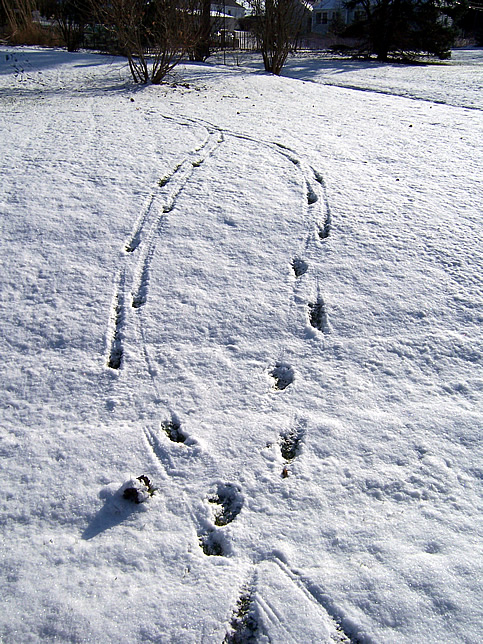 And then what about these? Did a predator of some sort scare them so they ran off or were they simply gamboling in the full moon light last week?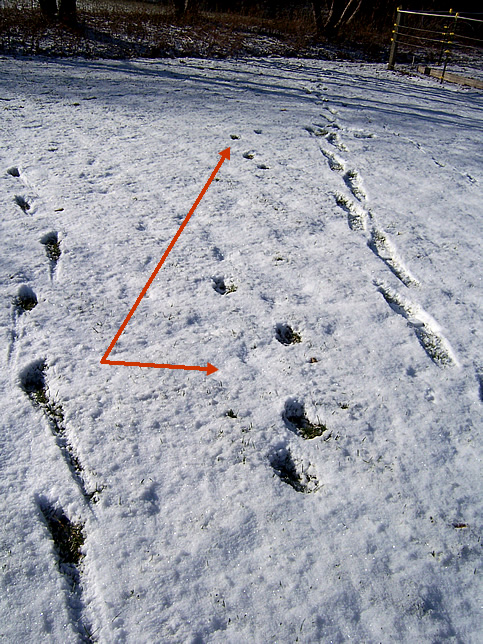 I've found lots of these tracks around and it is hard to tell whether there are four or five toes. Animals in the dog and cat families leave tracks with 4 toes, with cats leaving no claw marks. On the other hand, raccoons, opossums, and skunks have five toes, but maybe it's been too cold for them to be hanging around. I've seen the red fox lately and my neighbor swears she has seen a coyote, so possibly they belong to one of those critters. My vote is for the red fox!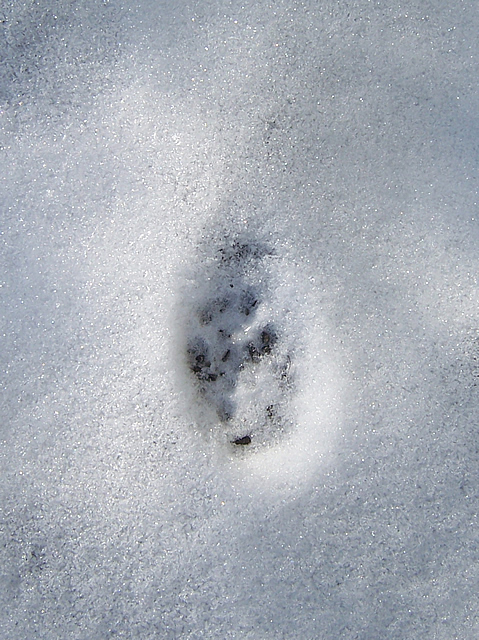 We have squirrels in abundance, happily eating the seed underneath the birdfeeder – these tracks, although somewhat blurred by melting belong to them. Squirrels, like mice are four-toed on the front and five-toed on the hind feet. They plant their front feet first and bring their hind feet up and plant them ahead of the front feet.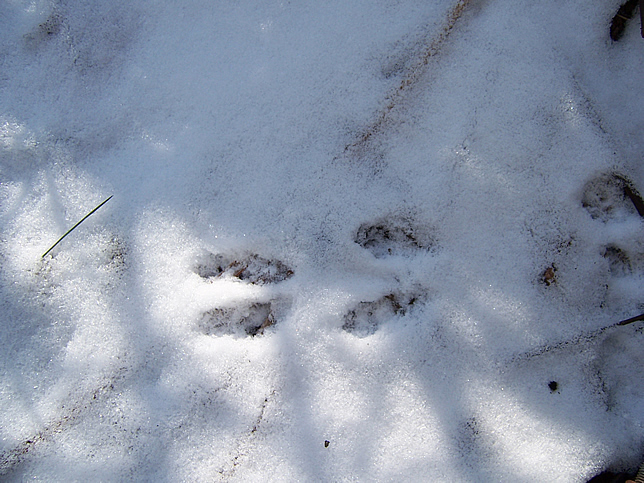 Bird tracks are also fun, but it's much harder to identify the particular species unless you see them making the tracks first-hand. For example, I know these are the Carolina wren tracks. Although I took this picture last winter, he has been flitting and bobbing around, entertaining me immensely with his antics.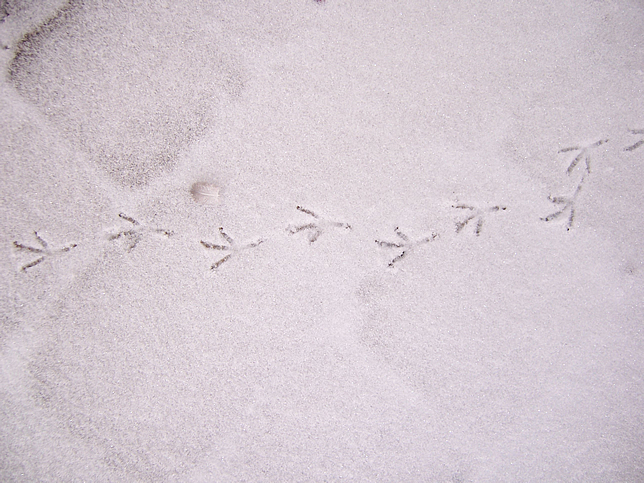 A big old crow left these tracks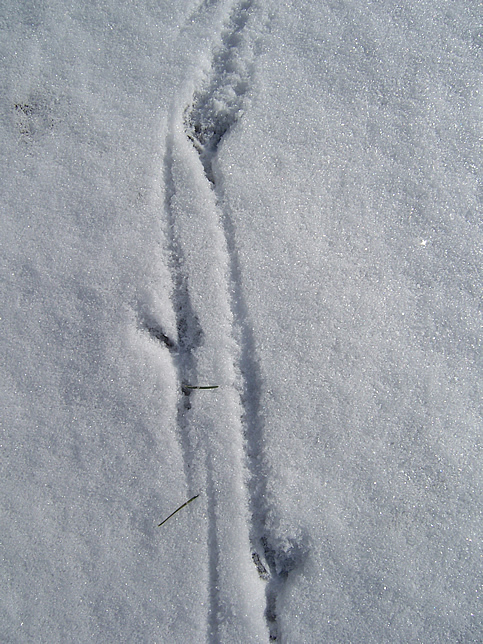 after he made a perfect landing with his tail in the snow!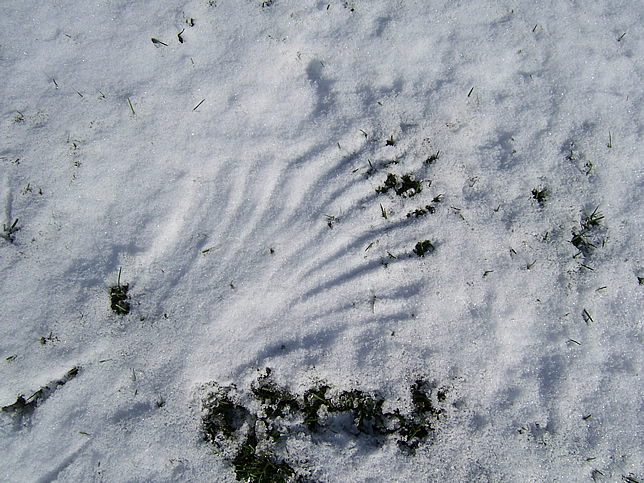 Numerous tracks can be found in our backyard in the "EZPass travel lane" at the edge of our garden fence. Our garden is very large and the critters have to go around to get to the other side. Most of the tracks are the same as can be found elsewhere in the yard, but hoo-boy! there are some biggies here too. Can anyone say, "Bear?" Yes, and it is possible as there have been black bear sightings in our town.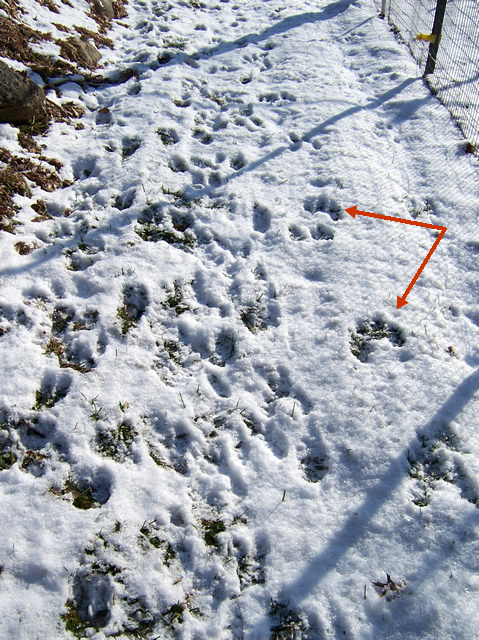 You can read more on animal tracks in the snow at